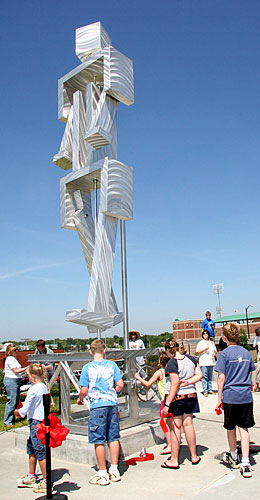 Besides my own house,
Jordan Valley Park
is my favorite place in Springfield, MO. Prime water fountains for playing, excellent hills for rolling, AND A GIANT ROBOT.
Kinetic Man is the work of Missourian artist
Russ RuBert
(all photos are from his
online portfolio
). Whenever out-of-towners come to visit me in Springfield, I always take them to visit Kinetic Man. He's simply lovable!
To see Kinetic Man in action, you have to turn a wheel that looks like it could steer a pirate ship. As the wheel turns, Kinetic man's arms and legs move as if he's walking. Also, his square head rotates a full 360 degrees.
If Kinetic Man could talk, I feel like he would be a wise man. He would be a great listener and a great storyteller.
Long Live Kinetic Man!